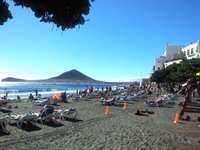 El Médano
El Médano is one of the loveliest beaches in southern Tenerife. Whether you're a water sports lover or you're looking to spend a fantastic day with the family, this is the place to be. This beach has the distinction of having been awarded a Blue Flag , which guarantees top quality services and ideal swimming conditions.
El Médano is located in the municipality of Granadilla de Abona, where it stands out for its fine grey sand and the view of the majestic Montaña Roja volcanic cone.
The part nearest to the town has gentler waves, making it more suitable for families. As you get further away along the promenade you will see surf shops, restaurants and cafés buzzing with a very cosmopolitan vibe.